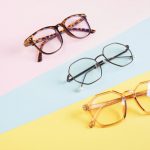 When it comes to eyewear, fashion and functionality go hand in hand. Nathalie Blanc designer glasses are renowned for their timeless elegance and delicate frames that effortlessly blend style and comfort. In this blog post, we will explore the craftsmanship, design philosophy, and key features that make Nathalie Blanc glasses a coveted choice for those seeking refined eyewear.
Craftsmanship
Nathalie Blanc's eyeglasses are a true testament to the art of precision craftsmanship. Each pair is meticulously handcrafted by skilled artisans, using the finest materials and cutting-edge technology. The brand collaborates with renowned eyewear manufacturers known for their expertise in creating top-quality frames. From the selection of premium materials to the delicate assembly and meticulous finishing touches, every step in the production process reflects the brand's commitment to creating eyewear of unparalleled quality and beauty.
Design Philosophy
Nathalie Blanc's design philosophy revolves around timeless elegance and delicate details. Her eyeglasses exude a sense of refined sophistication, combined with contemporary elements. Inspired by art, architecture, and the beauty of nature, her frames feature graceful lines, subtle curves, and refined proportions. The collection encompasses a wide range of styles, from classic shapes to modern interpretations, providing options to suit various face shapes and personal preferences.
Distinctive Features
One of the distinctive features of Nathalie Blanc glasses is their lightweight and delicate frames. The brand believes in the power of subtlety, creating frames that enhance the natural beauty of the wearer's face without overpowering it. Each frame is carefully designed to be comfortable, lightweight, and well-balanced, ensuring a perfect fit and all-day comfort. The delicate details, such as intricate temple designs and subtle embellishments, add a touch of elegance and uniqueness to each pair of glasses.
Choosing the Perfect Pair
Selecting the perfect pair of eyeglasses is a personal journey that reflects both individual style and face shape. Nathalie Blanc's collection offers an array of options to suit different tastes and face shapes. For those with round faces, angular frames can provide a flattering contrast, while square faces can benefit from rounded or oval-shaped frames. Cat-eye frames are an excellent choice for enhancing the features of heart-shaped faces, while rectangular frames can balance the proportions of oval-shaped faces. With a variety of styles, colors, and materials, there is something for everyone in Nathalie Blanc's collection.
Investing in Timeless Beauty
Nathalie Blanc designer glasses are not only fashion-forward but also hold significant value as an investment. The brand's commitment to craftsmanship and the use of premium materials ensure durability and longevity. By investing in a pair of Nathalie Blanc glasses, individuals are acquiring a timeless accessory that will not only enhance their vision but also elevate their style. Furthermore, the limited production and exclusivity of the brand make these frames highly sought-after among eyewear enthusiasts and collectors.
Conclusion:
Nathalie Blanc designer glasses embody the perfect blend of timeless elegance and delicate craftsmanship. With a focus on precision and attention to detail, the brand creates frames that are as visually appealing as they are comfortable to wear. Whether seeking classic shapes or contemporary designs, Nathalie Blanc's collection offers a range of options to suit different face shapes and personal styles. By investing in a pair of Nathalie Blanc glasses, individuals are embracing eyewear that will stand the test of time, blending elegance with functionality.
Got Questions? Let Us Help!
Art & Eyes is New Orleans' premier provider of eyewear for people who want to wear glasses while supporting the best artisans in American-made clothing, jewelry, and accessories. We're a high-end art-to-wear boutique as well as a resource for the person who wants excellent vision and visionary design from their glasses. Our collection of frames is hand-picked for people who appreciate eyewear as an opportunity for aesthetic expression. We pursue quality craftsmanship and design rather than trends and logos, and we take pride in curating our evolving collection. With frames ranging from $64 to $880 and brands like Eyebobs and Alain Mikli, we aspire to offer every customer accessible chic. Contact us today to learn more about what we can do for you!
Categorised in: Nathalie Blanc