Custom Lenses
While frames may hold the appeal of your prescription glasses, lenses hold the power. Art & Eyes sources the largest selection of replacement lenses from several manufacturers utilizing dozens of designs. Whether you are nearsighted or farsighted, have astigmatism, have several needs in hand to eye, reading, computer work, are light-sensitive, require a prism or have other special needs, we can make the perfect lens for you!
We offer lenses in New Orleans, Gretna, and Metairie, LA, and will work with you to make sure they're a perfect fit to your vision. When you walk out of our shop, you'll be seeing the world clearly, and the world will be seeing your unique fashion and style!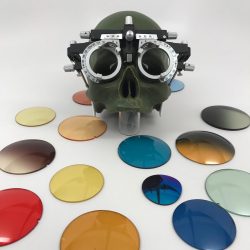 Understanding Lens Options
The lens industry has undergone consolidation in recent years. Virtually all lens makers are now owned by 3 major companies: Carl Zeiss, Essilor and Hoya. Each company has specific strengths, and Art & Eyes provides the best products from all 3 of the major players to ensure our customers are getting only the very best.
In addition to the major lens makers latest designs, (we use Shamir, Hoya, Zeiss and Seiko among others) Art and Eyes uses 2 separate labs that each have their own proprietary designs in both single vision and multifocal designs. These replacement lenses offer customization for your specific needs, and typically cost 20 – 30% less than the major manufacturers.
All Art and Eyes lenses come with a unconditional 2 year scratch warranty, and the best, clearest and strongest anti reflective coatings.
Whether it's specialty lens for high astigmatism from Israel, a super thin, high index from Germany, specialty coatings from France or the USA, or specialty lenses from Japan, you'll find the ideal lenses at our glasses store in New Orleans, LA. We also offer products rarely found elsewhere, such as clear lenses that polarize when exposed to sun, coatings that provide maximum UV protection in regular eyeglasses and entirely new technologies such a Superfocus, the first major improvement in lens design in half a century.
Tailoring Lenses to Customers
Each customer's unique visual needs are assessed before a lens is made. We even make totally custom lenses based upon how the customer uses their eyes, head and body to perform visual tasks in real-time and 3-dimensional space, using computer analysis. The final element is the human one, which comes from consultation about your desires and needs. We go above and beyond to make sure absolutely everything comes out right when making your replacement lenses.
Suns
All designs are available in clear, solid sun tints, gradient tints, polarized, transitions, and polarized transitions. They can be made in multiple colors and densities. We can also do flash mirrors, solid mirrors, or even the 22k gold coatings used on NASA astronaut's helmets!
We also offer custom-made SUN CLIPS for every frame we sell. Each which are made for the actual frame which you are purchasing, so that the size color and fit are exact and it becomes an integral part of your frame.
The Finish
Worried that the replacement lenses won't be quite right? Don't! Within the first 60 days of your purchase we will remake any of our lenses, or change the design if need be. Even if your prescription changes during that time, we will make you a new pair in the new prescription, free of charge. So, with Art and Eyes, you can rest assured that your new lenses will be the best they can be, whatever it takes!
For more information about different lens options or to inquire about how we can help tailor lenses and eyeglass frames to fit your specific needs, please visit us today or contact us at 504-891-4494.