We are an independent store, locally owned and serving New Orleans, Gretna, and Metairie, LA. We curate every one of our designer frames (over 4000 new), we never "just get in" the top 10 sellers. We do not repeat, you will not see yourself walking down the street. Contact us to learn more!
All independent high-end eyewear companies that make their own frames in Europe, Japan, and the United States. No Luxottica. The best lenses for the client. We do business with 4 lens companies. All lenses are not created equally, nor are your eyes.
NEVER BUY ANYTHING THAT COUNTS ONLINE. – IT'S LIKE TAKING A VACATION ON YOUR T.V.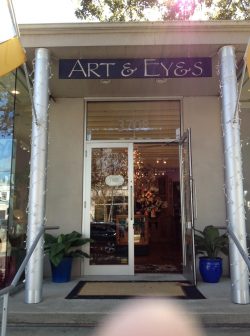 Think about it. Your face is a very curved complicated form. And your friends or the guy on T.V. is very different.
They are too heavy, they slide off your nose, they sit too high, the color is wrong, they hit your cheeks, they seem to fit… but they are uncomfortable, you can't see, your ears …eyebrows…are in the wrong place…. all these things happen when you buy your lenses and eyeglass frames online, even with a computer image of yourself popped into the frames. Some things you just have to be there for the best result. And this IS the first thing others look at, your face!
Art & Eyes started in 2011. Both Starr and Paul have lived in multiple US cities. Paul being a businessman with a flair for the arts and Starr being the artist with the knowledge of a businessman. When I met Paul I told him if he wanted to be with me he either had to live in New York or New Orleans.